The current types of cargo transportation both have their respective flaws. Motor transportation, for instance, suffers from issues such as wear and tear of road surfaces, costly maintenance and repairs, and the risk of damaged goods and vehicles due to worn-out highways. Meanwhile, railway is also problematic due to high expenses in laying new routes . Air cargo transportation is also quite expensive. As a result, there is an increasing need for an alternative solution to address these problems.
However, Transport & Infrastructure Solutions provided by Kathmandu Podway can potentially revolutionize the industry. These solutions offer a unique approach that can address the challenges faced by traditional cargo transportation methods. The steel-wheeled self-driving electric cars (uPods) used in this system travel on a string rail overpass at a speed of up to 150 km/h, making them highly efficient in transporting up to 100 million tons of cargo annually.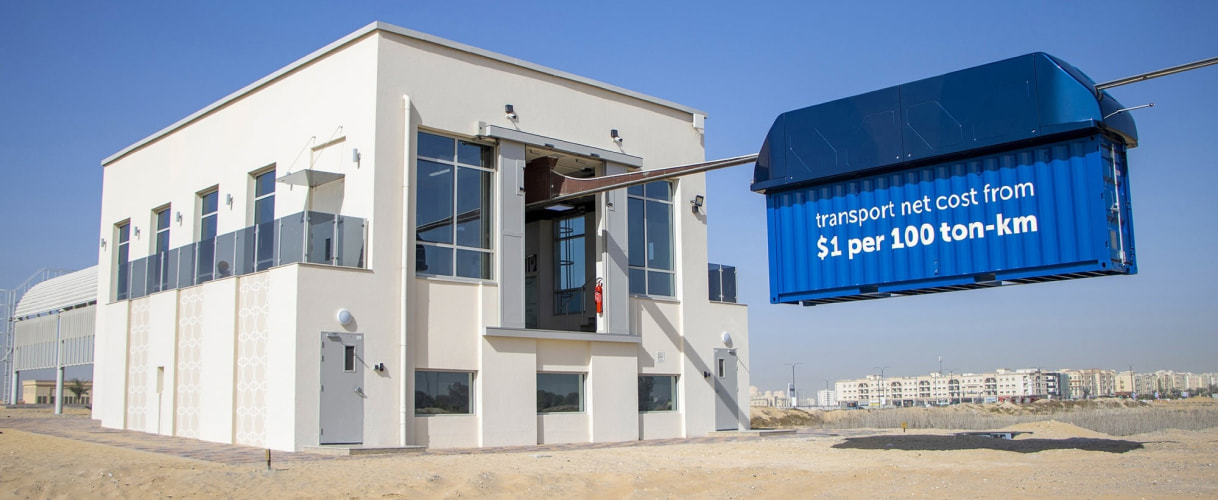 The use of a string rail overpass instead of traditional road networks and railways provides several advantages. The string rail overpass is not limited by the length of the route, unlike cableway systems. Additionally, the track structure is stable against extreme temperatures, and the pre-stressed strings make it highly durable and resistant to weather impacts, natural and man-made disasters, vandalism, and terrorist attacks.
Furthermore, the rolling stock of uST cargo transport has a long service life of up to 25 years, while the track structure can last up to 100 years. This makes uST cargo transport a highly cost-effective option for transporting goods, as it requires less frequent maintenance and repair than traditional cargo transport systems.
In addition to being cost-effective, uST cargo transport is also highly versatile. The use of uPods in remote and hard-to-reach areas, as well as in harsh natural and climatic conditions, can unlock new possibilities for cargo transportation. Traditional transportation methods often struggle to operate effectively in these areas, but the Transport & Infrastructure Solutions offered by Kathmandu Podway can overcome these challenges.
Overall, Transport & Infrastructure Solutions provided by Kathmandu Podway have the potential to transform the cargo transportation industry by providing a reliable, efficient, and cost-effective alternative to existing methods. With innovative approach, Kathmandu Podway is leading the way in developing new and improved solutions to meet the evolving needs of the industry by working with UST Inc.