The transportation sector faces numerous challenges, and one of the most pressing issues is the constant growth of urban populations in large cities. This increase in population leads to a corresponding increase in the use of urban transportation systems, which in turn exacerbates existing problems such as traffic congestion, accidents, and pollution. It is not uncommon to witness huge traffic jams at the entrances and exits of large cities, which make it difficult to implement efficient intercity passenger traffic. While some have proposed building new roads and multi-level interchanges, this solution has not been successful in addressing the problem. Instead, it has only encouraged more people to use private transportation, resulting in even more serious congestion on the road network. Additionally, in many large cities, the density of development and number of roads have reached such a high level that building anything else is nearly impossible. This has resulted in congested traffic arteries becoming an unsolvable problem.

However, Unitsky String Technologies Inc. offers a solution that aims to improve the quality of mobility by reducing the level of emissions of harmful substances and noise pollution through the use of electricity. Their solution involves placing the track structure at a height above the objects of transport and energy infrastructure, residential and industrial facilities, water, and other obstacles. This innovative solution involves the movement of rolling stock on the "second level" above the ground, bypassing intersections, multi-level interchanges, traffic lights, and traffic jams on the "first level." This ensures a high level of safety and high accuracy of compliance with the transportation schedule in all weather conditions and at any time of the year. Moreover, there is no need to pause at traffic lights, leading to zero stopping and acceleration of the vehicle, which, in turn, helps maintain the most important logistical indicator - average movement speed. This solution eliminates not only traffic jams but also accidents and collisions with people and animals. Automated control systems minimize the negative impact of the human factor on transportation safety.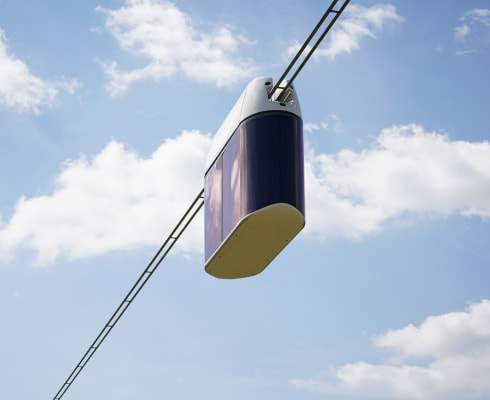 14-seat uniBus on the flexible track structure (Maryina Gorka, Belarus, 2019)
The speed of urban steel-wheeled uPods is a precondition for achieving high performance of uST Transport & Infrastructure Complex. The capability to adjust driving intervals and the number of cars on the line depending on its load makes it possible to optimize logistics in real time and significantly reduce operating costs. Additionally, specific urban uPods, in terms of their passenger capacity, can be selected based on the parameters of the route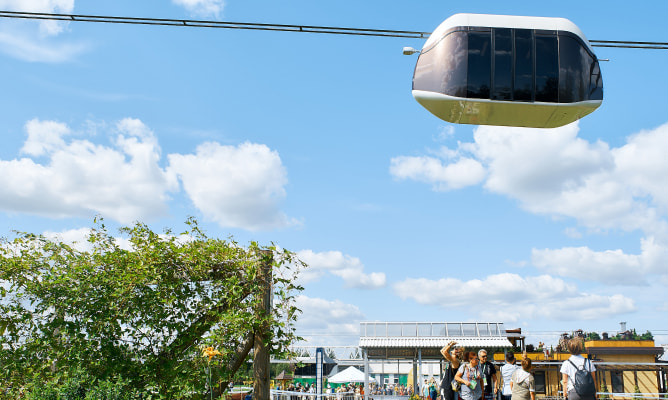 6-seat uniCar on the flexible track structure (Maryina Gorka, Belarus, 2019)
The advantages of this solution are many, including fast passenger transportation, high carrying capacity, low operating costs, low capital costs, unprecedented safety, and ecological friendliness. The passengers can reach their destinations comfortably and safely in a short time due to the movement of vehicles along the dedicated track structure located on the "second level." Moreover, the high smoothness of the ride and low noise level, even at high speeds, make the uPod ride as comfortable as possible for passengers. The overpass-like track structure, combined with high movement speed, makes it possible to offer solutions that ensure any passenger traffic. During operation, it is possible to couple uPods into trains with virtual (electronic) or mechanical coupling. The strength and durability of a string rail track structure leads to low operating costs for the maintenance of uST Complex in constant readiness for use, regardless of the time of year and climatic conditions, including extreme ones. The estimated service life of the string rail overpass before its first major repair is from 50 years, and for the rolling stock, it is 25 years. The costs for maintenance personnel, their salaries, as well as energy consumption are reduced significantly due to the automated transportation process and high energy efficiency of transport. All these factors increase the profitability of passenger transportation and significantly reduce the self-sufficiency period of a string rail transport complex. The construction of uST Transport & Infrastructure Complexes is characterized by low capital costs.

Advantages of Podway Passenger Transport
Fast passenger transportation
The Podway transport system provides fast and safe transportation for passengers. It operates on a dedicated track structure located on a second level, and utilizes an automatic control system to reduce the risk of traffic jams and delays caused by human or weather factors. Unlike traditional transportation, Podway is not subject to speed limits, allowing it to reach a maximum speed of 150 km/h. The ride is smooth and quiet, ensuring passenger comfort even at high speeds.